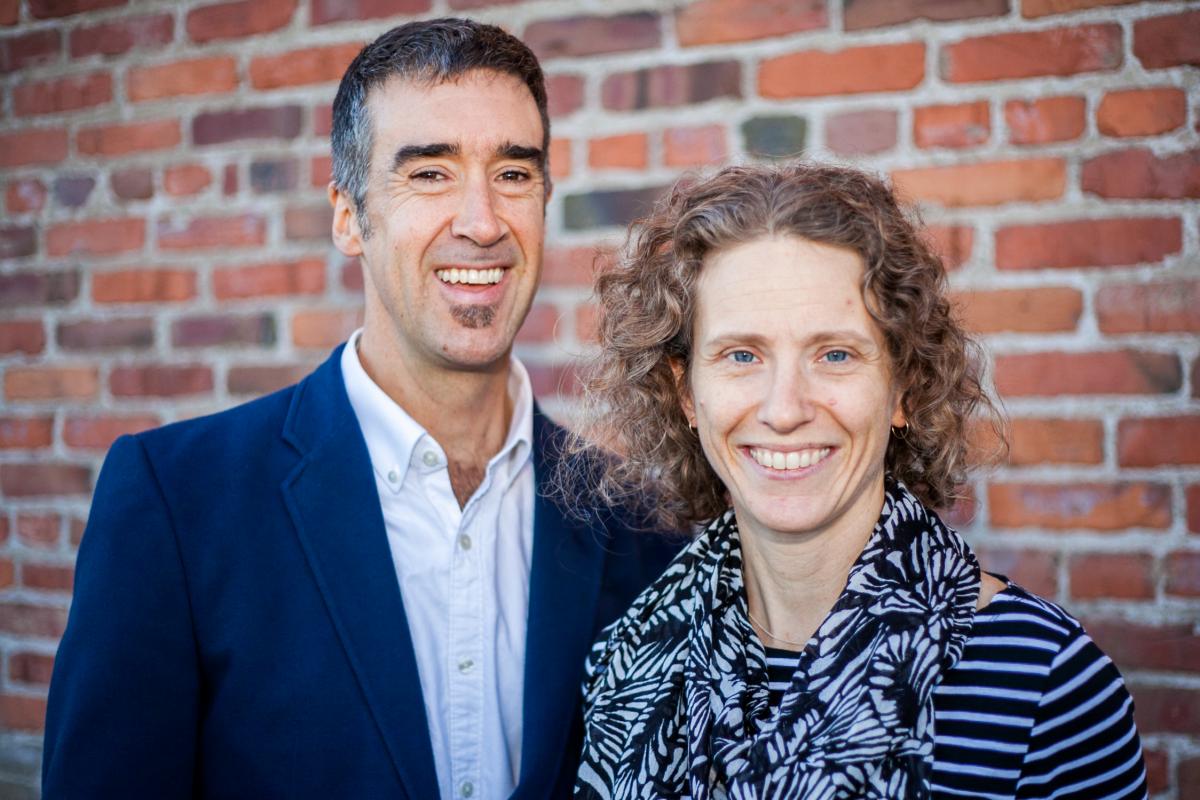 Real Estate brokers Geordie and Allyson Romer have been serving clients in the Wenatchee Valley real estate market for over a decade. Together, these real estate agents work tirelessly to stay on top of the regional market and present the most relevant opportunities to their clientele.
When not in the office, they can be found exploring the endless recreation opportunities of the area in all of its seasons.
Geordie Romer
I am a Washington native, born in Seattle and raised in Olympia. I am a graduate of Middlebury College in Vermont where I earned a B.A. in Environmental Studies and Political Science.
Prior to real estate I spent nearly a decade as a park ranger in our National Parks. My work included law enforcement, search and rescue, emergency medicine and wildland firefighting. The values of trust, teamwork, and determination are ones I bring with me to real estate.
I enjoy getting out in the mountains around Leavenworth in any way I can. I am an active telemark and cross country skier and hiker. In the past I was a climber and alpinist with visits to the Canadian Rockies and to the Bolivian Andes.
In recent years, I have rekindled my love of competitive cycling.  I mostly race on the road, but have raced cyclocross, mountainbikes and on the velodrome in the past. I started exploring some of the more remote gravel roads around the Leavenworth area by bike and love where those adventures take me.
Why Work With Me?
I am one of only a dozen of real estate agents in the Wenatchee Valley to earn the coveted Certified Residential Specialist designation from the Council of Residential Specialists.  Only 4% of Realtors nationwide hold the designation which requires numerous advanced real estate classes and requires real world sales experience. The CRS Designation is often known as the Phd of real estate. It's not surprising that these 4% handle 25% of all residential transactions in the United States.
In 2011, I earned my Managing Broker's license from the state of Washington.
I have also earned the e-PRO designation from the National Association of REALTORS and am one of only a handful of Windermere brokers in Eastern Washington to be named a Premier Associate for my expertise in the luxury property market.
Much of my experience and expertise is in internet marketing. I have been blogging about Leavenworth's real estate market and trends for since 2005 (previously at MyLeavenworth.com). I have been a featured writer for the Seattle PI on their real estate professionals blog. In 2008, I was nominated as one of the most Tech Savvy Businesses of the Year by the Greater Wenatchee Area Technology Alliance.  I am always looking for ways to help my customers through the use of technology – whether that means using social media like Twitter or by creating videos and virtual tours to give buyers a better look at local homes.
In 2006 my peers named me to the Board of Directors for the North Central Washington Association of Realtors where I served as the Director for Governmental Affairs for Chelan County.  Geordie served on the Board of the Chelan-Douglas Land Trust for nine years including two years as the President of the Board.
Allyson Zacharko Romer
I was born in Winnipeg, Canada, and grew up outside of Denver, CO. I graduated from Colorado State University with a B.S. in Forest Management. I have worked in both public and private forest industry, mainly with the US Forest Service. Most recently, I was on the Wenatchee Valley Rappel Crew, fighting forest fires by rappelling out of helicopters in remote areas.
In 2003 I earned a Canadian Commercial Pilot License and spent two summers as a bush pilot in NW Ontario flying float planes.
More recently, I decided to pursue an accounting degree online and graduated from Washington State University in 2020, with a B.A. in Business Administration, Accounting.
I first came to Leavenworth the summer of 2001 as a firefighter on the Icicle Creek Complex. Like many, I fell in love with the area and all the opportunities it has to offer. I take advantage of the extensive hiking trails up Icicle Canyon and in the Lake Wenatchee area. I love to xc ski in the winter and more recently have been getting into road cycling and gravel riding.
Why Work With Me?
Real Estate is about helping people: Helping first time home buyers through their first home buying experience, helping people sell their homes so they can move on to the next step in their life, helping families find their special vacation spot.
I enjoy the human emotions that surround these decisions, especially with vacation homes.  Having had a family vacation home when I was young, I know the special joy a cabin can bring by creating memories and experiences that last a life time.
As buyers' agents, we will work to find the property that is right for you.  When the time comes, our teamwork and communication will strive to make buying your property an easy and efficient experience.
As a seller's agent, I am committed to hard work and open lines of communication.  Selling a home can be emotional and I strive to make the transition to a new residence stress-free and simple.